FASHION WEEKS
■

NEW-YORK

■
with Louise ROE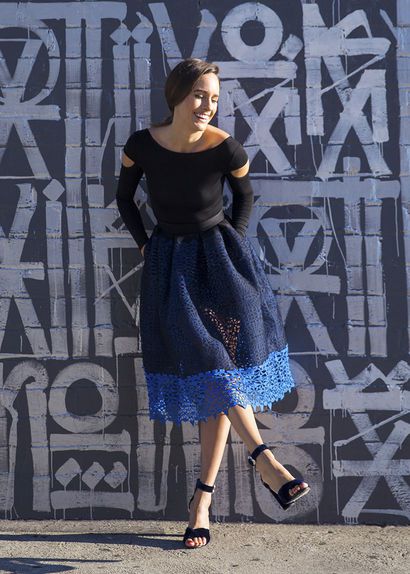 Like a catwalk in itself, this city oozes energy, boldness and chutzpah. Louis Roe takes a bite from the Big Apple, makes Fashion Week her own and chooses a Maje NYC selection to bring you a fantastically feminine taste of the big city that's at the cutting edge of style.
LOUISE FASHION WEEK SELECTION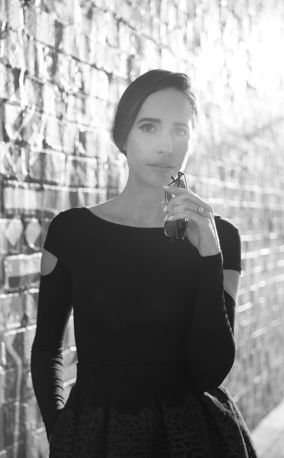 How would you describe your style? Relaxed California vibes – lots of denim and camis, mixed with a more minimal European aesthetic. I love something very feminine next to sleek tailoring or flat loafers.
What are your wardrobe essentials that every woman should own? A camel overcoat, cropped jeans, the perfect white shirt, and killer strappy heels.
A fashion faux pas to avoid? I also think it's important to try new fashion trends, but only the ones that really speak to you. Don't wear something that makes you feel uncomfortable – stick to pieces that you can mix in with your current items, and rock with total confidence! It sounds simple, but fit is everything. If something hangs off you or cuts in too tight, no matter how beautiful or expensive, it won't flatter.
What is your all-time favourite piece of clothing? I have an incredible copper and black dress by Frank Usher, from the 1970's, that my mum used to wear out in Rio with thick eyeliner and a beehive. It's amazing!
The Top Fall 2016 Fashion trends to adopt? Thigh-high boots, tomato red and mustard yellow, voluminous skirts.
As a fashion expert, what makes Maje so different from any other French brand? I have always, always loved Maje. It's one of the few stores I will make a beeline for, I used to head there in Paris years ago – it would be my first stop! The cut of all Maje dresses and tops is just so flattering, and I think each item has a beautiful mix of simple elegance, but also luxurious detail – whether that's in the crochet or the lace, or the drape of the fabric. A Maje girl is very confident; not showy, sexy in an understated way.
What's your favourite products from Maje FW16 collection ? How would you wear it? I love the black and blue voluminous JOURNEE skirt – it's such a statement piece. I love pairing blue and black together, so I'd pair it with the navy velvet sandals FALBE and the black body suit with cut outs TARA. That bodysuit is amazing, I'd also wear that with jeans and white sneakers.
Louise, we know you are getting married soon, what would you want your guests to wear? Well in England ladies wear hats to weddings, so hopefully some fabulous hats!
NYC : Do you have a place to recommend us? I mainly go to New York fashion week, so I'd say the Edition Hotel, The Bowery Market for Champion Coffee, the bar at Le Coucou. So chic!
What would be your ideal weekend in this city? I've never rowed on the lake in Central Park, that would be romantic. I love to visit one gallery every time I'm in New York – last time it was the Frick!, and then dinner somewhere cosy like Freemans.